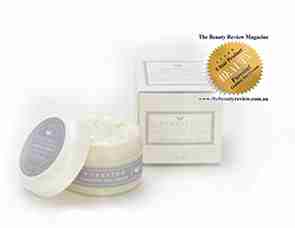 Goddess Day Cream gets Five Stars!!!!!!!!!!!!
From The Beauty Review  –  Australia's No.1 Online Magazine
Peggy
Age 65
 Skin Type: Fair
 This is an excellent cream. It has a very fine formulation which quickly penetrates the skin and leaves it smooth to the touch. I found it especially effective on my neck area where the skin is thin and has fine lines. I thought the combination of essential oils is definitely beneficial for the mature skins. This is a very good value moisturiser due to the excellent quality of ingredients.
 Kristy
 Age 24
 Skin Type: Normal/Dry
 The cream has quite a distinct smell when you first open the jar. In the jar it looks quite thick, and I found that you had to really scoop hard to get the cream out – just running your finger over will hardly pick up any product. However, I found that I only needed a small amount and it would cover my whole face and when applied it didn't feel heavy on the face at all. After application my skin felt really soft.

Initially looking at the price tag, it does seem to be on the expensive end of the spectrum. However a little bit goes a long way, so 50ml of this will last for quite a while. However having tested it out I would probably buy it again, but I could see myself getting a bit sick of the smell of it after a while.
 Leanne
 Age 35
 Skin Type: Normal
 
 This product was great value especially taking into consideration the quality of ingredients. The texture and fragrance was beautiful. Although I prefer a more specialised moistruriser, I found this to be a nice in-between cream. I like the fact that it is a product with environmental morals as well. I would recommend it for a younger age group.
 Leila
 Age 28
 Skin Type: Combination
 
 At first glance I thought this product was a bit too light as I tent to like a thicker cream. However after applying this cream, I found that I really liked the texture. It's not too thick however it is not as thin as lotions. The scent is absolutely divine! It smells like cocoa butter and yummy chocolate.

The cream feels great on and leaves your skin feeling soft and smooth. And it's great knowing that it's made from natural ingredients. I really loved this cream for day and night time use. The tub is convenient and a good size. At first I thought it was a bit expensive but it is well worth the money spent. Great product!
 Jane
 Age 34
 Skin Type: Normal/Dry/Combination
 
 I really liked this day cream, especially the name. I loved that it's a natural product and Australian. It smells divine. It left my skin feeling smooth and soft and it soaks into the skin very quickly. My skin looked fresh and glowing after using it. I think it is good value for money. It's a 50g tub and a little goes a long way. This tub will last ages. I would definitely buy again if my budget allowed.
Overall Star Rating  5